Silent Movie Festival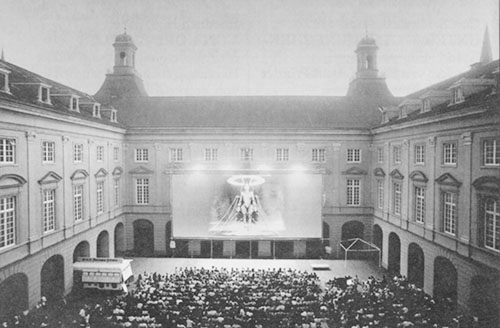 Silent Movie Festival
Manuskript für die Sendung "Arts on the Air"
English Service der Deutschen Welle
ausgestrahlt am 22.9.1996
1.O-Ton: Musik/Gelächter/rauschender Applaus
Silent films were never silent. There was the audience and there was music.
2. O-Ton: Das Herz eines Boxers (Klavier, Gesang, Lachen)
The audience definitely enjoyed the live music to the films. The open-air festival took place in the old courtyard of Bonn university. For ten days it was the social event. Film fans had to arrive pretty early to get a seat, some people even had made it a habit to have their tea in front of the screen.
3. O-Ton: (spectator)
I like the atmosphere. I have actually seen three films on three nights so far: Fatal Footsteps, Stan Laurel and James Finlayson, Robin Hood and Blackmail. It is interesting to see bygone films, with everything being in black and white whereas we are used to colour.
The programme boasted a wide diversity of genres, ranging from expressionist to experimental films, from slapstick to melodrama. Expressionist films illustrate inner feelings by external means. A distorted mind is reflected by a demonized setting and the effects of light and shadow. A popular subject was inanimate beings brought to life. Nosferatu, Frankenstein and The Golem are prototypes of the monster film.